Here are today's Ottawa Sun letters to the editor.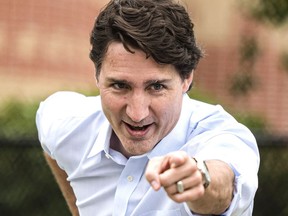 Article content
SANTA TRUDEAU
Article content
Re: Employers not feeling well; 10 days paid sick leave introduced for almost a million Canadian workers, column, Dec. 4
Article content
The law of holes is that when you are deeply in one, stop digging. Yet the unelected, free-spending socialist coalition of Trudeau-Singh cannot stop themselves. The current annual deficit is more than $90 billion and national debt is more than $1 trillion. A $1 billion dental plan has just been rolled out. Trudeau recently shelled out a mind-boggling $40 billion to Indigenous children.
We know Trudeau likes playing Santa year-round, but it will be our children and grandchildren stuck paying the bills he is racking up. Pierre Trudeau came very close to bankrupting Canada, and it seems son Justin is well on his way to finishing the job.
Article content
While Trudeau spends billions Canada cannot afford, more and more Canadians are juggling their finances just to survive because of his failing policies.
LARRY COMEAU
OTTAWA
(We've never been good at juggling.)
THAT'S THE 'SPIRIT'
Here's my annual Christmas poem, Blue Christmas
Christmas comes but once a year
And when it does you drown in beer
You buy a tree that looks bushy and big
When you get it home it's a broken-down twig
Here come your relatives up the walk
You close the blinds and let them knock
You take your presents out of the box
Just what you needed — twelve pairs of socks
Your credit card bill reads go to jail
You crash your car in snow and hail
A reindeer put his foot through your roof
A drunken elf stole your 90 proof
If it 'tis the season to be jolly
How come you look so melancholy?
Article content
TERRY TOLL
CAMPBELL'S BAY, QUE.
(You've captured the mood well.)
GET ON IT, CHIEF
Newly appointed top cop Eric Stubbs has a tremendous amount on his plate. Rock-bottom morale, disorganization at the top and gun crime running rampant in the streets.
However, there are the smaller things that also matter a great deal. Panhandling is out of control in this town, and not just in the usual venues such as King Edward Avenue. These folks are all over the suburbs, begging in front of stores in Orléans and on Saint Joseph Boulevard on a daily basis. Many of these people can be rather intimidating to some members of the public.
The more panhandlers, the more chances of crime increasing in the area. It's time to clamp down, chief.
Article content
STEPHEN FLANAGAN
OTTAWA
(People need a lot more support than they're currently getting.)
A PAT ON THE HEAD
Re: PM elects again for ignorance; Trudeau trying hard to avoid interference allegations, column, Nov. 30
It should come as no surprise that Justin Trudeau refuses to answer questions about election interference — he hasn't answered a single question since 2015. All he does is read his prepared words over and over. He knows he can do this because no one ever holds him accountable, regardless of his words or actions. The NDP, most of the media, voters from Toronto east to Newfoundland and the world leaders who are content tolerating him and his behaviour, he acts and gets treated like someone's annoying little brother or sister. They give him a pat on the head, tell him he's a special guy and try not to do it again, OK. Good, now be on your way, nothing to see here.
S. BEATTY
SUTTON, ONT.
(Thanks for reading.)
(Except for the headline, this story has not been edited by PostX News and is published from a syndicated feed.)