Policy will exclude projects where carbon capture and storage or equivalent technologies are being employed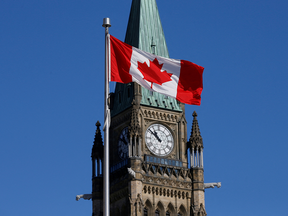 Article content
Ottawa has unveiled new policy guidelines aimed at halting the public financing of new oil and gas projects overseas by the end of the year in an announcement Thursday outlining how Canada will meet the commitment it made last year at the COP26 climate conference alongside nearly 40 countries including the U.K. and the U.S.
Article content
The new policy will apply to all federal departments, Crown corporations and public agencies, but will target Export Development Canada (EDC) in particular. The agency within the Ministry for International Trade currently has $2.5 billion in committed financing for international fossil fuel projects — business that will not be renewed, Natural Resources Canada said in a release Thursday.
Article content
The policy will apply to all oil and gas operations outside of Canada, regardless of where the company is headquartered —  but importantly will exclude instances where projects employ carbon capture and storage or equivalent technologies.
Some unabated natural gas power generation projects could also be exempt, the government said, provided they meet strict criteria including that there is no viable renewable alternative to the project.
Article content
In this year's federal budget, Ottawa announced the elimination of certain tax deductions for resource expenses related to oil, gas and coal activities in 2023 and plans to reduce nine other subsidies that are in the process of being phased out.
Ottawa previously committed to ending all public financing of domestic fossil fuel projects and signalled that more details are on the way early next year.
"The guidelines issued today are distinct from and do not pre-determine the Government of Canada's future domestic framework on fossil fuel subsidies," the department said. "The government recognizes that work must also be done to eliminate inefficient fossil fuel subsidies domestically and commits to eliminating additional significant fossil fuel subsidies early in 2023."
Article content
Analysts have previously warned that the policy could drive up the cost of capital for oil and gas companies seeking to develop new projects — a concern which has been compounded by disruptions to global energy supplies resulting from Russia's invasion of Ukraine.
The EDC said it will continue to expand its annual financing of clean technology with a target of growing investment from $6.3 billion in 2021 to $10 billion by 2025.
But the move was applauded Thursday by climate activists who argue it is crucial that wealthy nations stem the flow of capital supporting fossil fuel projects in order to limit global warming to 1.5 degrees Celsius.
"Canada is one of the worst fossil fuel financiers in the G20, we're top one (or) two, so it's incredibly important for our climate commitments that we stop bankrolling oil and gas projects wherever in the world they happen," said Julia Levin, national climate program manager with Environmental Defence. "The science is very clear, the (International Energy Agency) has been very clear, that any financing for fossil fuels is incompatible with limiting temperature rise to 1.5 degrees."

More to come… 
• Email: mpotkins@postmedia.com | Twitter: mpotkins
(Except for the headline, this story has not been edited by PostX News and is published from a syndicated feed.)