Language signals future hikes are no longer a foregone conclusion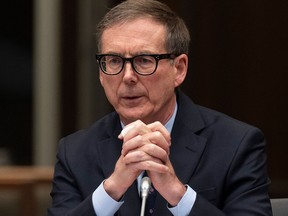 Article content
The latest increase was the seventh since March of this year, marking an extraordinary four percentage points worth of increases, a rate of hiking not seen since the mid-1990s, wrote Alberta Central economist Charles St-Arnaud in his reaction to the Bank's decision.
Article content
The move was "a modest surprise for markets," according to Stephen Brown, economist for Canada at Capital Economics, who estimated that about two-thirds of the market was expecting a 25-basis-point increase.
Article content
The last time the rate, which guides how much consumers pay to borrow money, was this high was back in December 2007 just prior to the Great Recession taking hold of the global economy.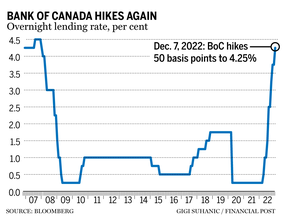 What mainly caught economists' attention was the tempering of language in the Bank's statement signalling that future hikes are no longer a foregone conclusion.
Article content
"Whereas the Bank previously told us that it expected "that the policy interest rate will need to rise further", it now tells us that it will "be considering whether the policy interest rate needs to rise further to bring supply and demand back into balance and return inflation to target," Brown wrote in a note to clients.
Economists noted that there is plenty of economic data coming down the pipeline between now and the next Bank meeting scheduled for Jan. 25 to inform what it does next. Among the relevant data are two consumer price index reports, another month of GDP and jobs numbers, plus the Bank of Canada's quarterly Business Outlook Survey and its Canadian Survey of Consumer Expectations.
Here is what the economists are saying about this rate increase and what's ahead:
Article content
Stephen Brown, Capital Economics
"The Bank of Canada delivered a somewhat dovish 50-basis-point policy rate hike today by softening its explicit forward guidance that interest rates will need to rise further. We would not rule out a final 25-basis-point interest rate hike in January, but the Bank is very close to the end of its tightening cycle.
"For now, we assume that the resilience of the labour market and a desire not to send too dovish a message will cause the Bank to enact one final 25-basis-point hike in January. But with Canadian oil prices tumbling below US$50 in recent days, almost 40 per cent lower than the Bank assumed in its October Monetary Policy Report, it would not be a complete surprise if today marks the last hike in this cycle. As there is no press conference today, we will have to wait for the speech from Deputy Governor Sharon Kozicki tomorrow to gauge the Bank's thinking."
Article content
Charles St-Arnaud, Alberta Central
"The key message in today's decision is that the central bank remains committed to fighting inflation but that we are at or very close to the peak in interest rates. As such, the BoC signals that whether further hikes are required will depend on incoming data-dependent. In our view, it means that if inflation continues to show signs of peaking and losing momentum and we see some loosening in the labour market, the BoC will leave interest rates unchanged.
"Today's decision supports our view that the BoC is likely done with its tightening. As such, we believe that interest rates will stay on hold for at least the first half of 2023, as we believe that inflation has likely peaked."
Article content
Josh Nye, RBC Economics
"The policy statement wasn't as hawkish as the decision itself — in fact the BoC's updated forward guidance features a softer tightening bias than we expected. Rather than suggesting the "the policy interest rate will need to rise further," today's guidance is that 'Governing Council will be considering whether the policy interest rate needs to rise further.' That clearly opens the door to a pause as soon as the next meeting in January, and in our view frames that decision as between 0 and 25 basis points."
Avery Shenfeld, CIBC Economics
"The statement cited signs that the economy will see a stall in growth in coming quarters, but noted that the recent deceleration in core inflation still leaves it above target. We see the overnight rate plateauing at this 4.25 per cent level, but unlike what financial markets have been presuming in the last couple of weeks as bond yields tumbled, we expect the Bank of Canada to keep the overnight rate there through 2023, and ease only gradually in 2024."
Article content
Douglas Porter, BMO Economics
"Today's relatively aggressive hike suggests that the Bank remains acutely concerned about still-high inflation expectations, even amid a clear cooling in domestic demand and some early indications that underlying inflation is losing momentum. In recognition of those latter factors, the Bank has opened the door to the possibility that this could be the last rate hike of the cycle. However, we are more concerned than the consensus on the stickiness of underlying inflation, and suspect that the data will direct the way to one more 25-basis-point hike at the next meeting."
James Orlando, TD Economics
"We don't think the BoC is done yet, but it is quickly approaching the end of its hiking cycle. As all Canadians know, the rapid rate hikes over 2022 have caused a dramatic adjustment in the real estate market, and we are starting to see this in consumer spending data. We expect this to continue to weigh on the economy over 2023 as the lagged effects of past hikes filter through. We expect the BoC will deliver its final rate hike in January, bringing the policy rate to 4.5 per cent. At that time, it can move to the sidelines, allowing the economy to recalibrate and let inflation continue its downward trend over 2023."
Article content
Taylor Schleich and Warren Lovely, National Bank of Canada
"Today's decision was always bound to be a surprise to some given how evenly split the 25- vs. 50-basis-points rate hike debate had been leading up to this meeting. While the Bank opted for the more aggressive option, the statement reads dovishly to us. For one, there was an acknowledgement that core inflation momentum is waning. To us, there's a good chance that this hike will be the Bank's last. Of course, that will be contingent on how inflation and the economy evolve over the coming weeks/months but, in our outlook, the Bank will not need to adjust rates any higher from here.
"We'll see if our dovish interpretation of today's statement is confirmed tomorrow when Deputy Governor
Sharon Kozicki delivers a speech and holds a press conference. Tiff Macklem's fireside chat next week will also be important to keep an eye on, but we'd stress the Bank's guarded and, at times, confusing communication this year. If past behaviour is prelude, we may not hear Governing Council members guide us in one direction or another (i.e., pause or another hike). Instead, the Bank is likely to let the data do the talking, which could set up a repeat of this recent inter-meeting episode, where no clear consensus on the Bank's next move was formed."
• Email: gmvsuhanic@postmedia.com | Twitter: gsuhanic
(Except for the headline, this story has not been edited by PostX News and is published from a syndicated feed.)