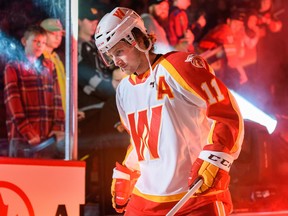 Article content
Matthew Phillips won't be the AHL's leading scorer for much longer.  
Article content
Fine by him, because he'll be in the NHL instead.  
Article content
Phillips finally received a call-up Thursday, the news a lot of Calgary Flames fans have been clamouring for.   
The wee right-winger has been piling up points in the minors. He's been waiting for a chance to prove he can produce at the top level, too.  
This is it.  
Article content
"I feel like I've put a good foot forward," Phillips said after a practice last week with the Calgary Wranglers. "I've built up my resume, and I think I've gotten better every season. I think I've showed what I can do, and I have a lot of belief in myself and my abilities."  
The question now is what sort of opportunity awaits for the 24-year-old Phillips, who has logged just one NHL appearance so far? Where will he fit with the Flames?  
Article content
There were no obvious injuries during Wednesday's 5-3 home victory over the Minnesota Wild, although the fourth-liners were mostly stapled to the bench. Since his squad has notched three straight wins, Darryl Sutter might be hesitant to shuffle any of his other combos to create a spot in the top-nine. (The Flames are now carrying 14 forwards, but centre Kevin Rooney — scratched for seven of the past dozen dates — was on waivers Thursday and would be reassigned to the farm club if he goes unclaimed. There are hints that Radim Zohorna, who has been skating alongside Phillips as the middle-man on the Wranglers' first unit, will be summoned once that roster spot opens up.)   
Sutter wasn't exactly bubbling with enthusiasm when asked last week about Phillips, who was hailed as the AHL's player-of-the-month for November after he sizzled to the top of the league scoring charts. Even with 15 goals and 30 points in 20 outings this fall, many wondered if his measurements — he is listed at 5-foot-8 and 160 lb. — would prevent him from getting a glimpse with Sutter at the helm
Article content
"You were curious three years ago about it, so you can keep your curiosity," Sutter bristled last Friday when asked the possibility of a promotion for Phillips. "I've watched the farm team live more than I have at any point since I've been here and it's still very much … The team is doing really well, but there's a big difference between American League to the NHL, in terms of production."  
Phillips is a made-in-Calgary story — a graduate of the Bow Valley minor-hockey association and AAA Buffaloes program and a sixth-round selection of the Flames in 2016. Now in his fifth pro season, he has totalled 82 goals and 191 points in 219 career games in the AHL.  
Article content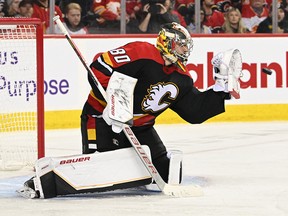 DAN THE MAN? 
Calgary's go-to goaltender, Jacob Markstrom, has now had a full week to reset. 
Thing is, Dan Vladar is making a convincing case to keep the crease. 
In his longest string of starts at the NHL level, the 25-year-old Vladar has now won three straight games. As Sutter put it after Wednesday's triumph at the Saddledome: "Bet on the horse and rode him." 
Sutter may be tempted to bet on Vladar again as the Flames open a three-game roadie with Friday's clash against old friend Johnny Gaudreau and the Columbus Blue Jackets (5 p.m. MT, Sportsnet West/Sportsnet 960 The Fan). 
The usual backup has been rock-solid of late, buying some time for Markstrom to rebuild his confidence.  
"You can't be flying in the skies," Vladar cautioned after his 25-save performance against the Wild. "You just have to stay humble because I don't think in two days that Columbus really cares what is our record or whatever. They just want to beat us, right? 
Article content
"It gives me confidence, but at the same time, we know how tricky this game can be — one game and it can turn in a different direction. So I'm just trying to stay humble and work on those things, and I'll never be satisfied."
The Flames will likely need both twine-minders as they head into a back-to-back set. After battling the Blue Jackets, they will beeline to Toronto for Saturday's matchup with the Maple Leafs. 
Whenever Markstrom's number is next called, Vladar is expecting a good show. Always supportive as a second-stringer, he had this to say about the Vezina Trophy finalist from last season: "I know he's ready and once he's going to get the shot, he's going to perform really well."  
(Except for the headline, this story has not been edited by PostX News and is published from a syndicated feed.)