Leasing company alleges Flair regularly missed payments and had arrears in 'millions of dollars'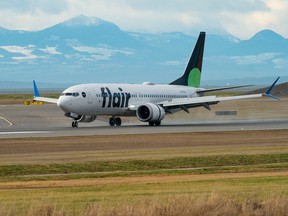 Article content
Flair Airlines Ltd. has filed a lawsuit in Ontario's top court against certain parties in relation to the seizure of four of its planes over the weekend.
Article content
The low-cost carrier cancelled several flights over the weekend following the seizure of four leased Boeing 737 planes located in Toronto, Edmonton and Waterloo, Ont., which it said was due to a "commercial dispute" with "a New York-based hedge fund."
Article content
Flair Airlines had been "regularly" in default of its leases, failing to make payments and accumulating "millions of dollars" in arrears over a five-month period, the Irish leasing company that seized some of the airlines' planes alleged in a statement this week. 
Dublin-based aircraft lease and asset manager Airborne Capital said it "strongly rejects" the airline's account of the seizure, which Flair had described as "extreme and unusual."
"Terminating an aircraft lease is always a last resort, and such a decision is never taken lightly," a spokesman for Airborne Capital said in a statement.
Article content
The leasing company said throughout the five-month period, its senior executives were in direct and regular contact with Flair representatives to remind them of their legal obligations, "however, missed payments and lease defaults persisted."
The decision to terminate the lease followed "numerous notices" to Flair, which it alleged had again failed to make payments when due, Airborne Capital said, adding that it has taken steps to meet its legal obligation to seek to mitigate losses flowing from Flair's default.
It said material losses are expected in relation to the repossession and remarketing of the aircraft.
Flair's chief executive Stephen Jones on March 13 said the airline's service has returned to normal thanks to spare aircraft it had been planning to use for the summer. He added that the company is "100 per cent caught up" on payments now.
Article content
Jones told the media that the company was in arrears by about $1 million, but said that "wasn't a big amount," considering it was equivalent to the value of sales Flair typically makes in a half day.
"Flair is here to stay," Jones said, adding that there are "airlines out there that don't want Flair to exist." He described the budget carrier as a "challenge to the status quo," saying it has "upset what was the cozy duopoly here in Canada."
Flair Airlines launched in 2004 as a charter airline and began offering regularly scheduled service in 2018.
The carrier in September announced plans to expand its fleet and become Canada's third-largest domestic airline by this summer.
• Email: dpaglinawan@postmedia.com | Twitter: denisepglnwn
(Except for the headline, this story has not been edited by PostX News and is published from a syndicated feed.)