Revenue rose to US$5 billion, but net earnings dropped to US$737.4 million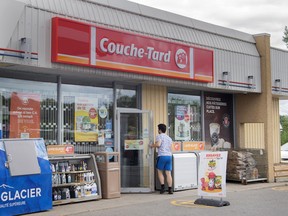 Article content
Alimentation Couche-Tard Inc., the Quebec-based convenience store and gas station giant, said revenue increased 3.5 per cent in its latest quarter, boosting the company's efforts to keep fuel sales steady in spite of the rising cost of living, and enabling it to declare a dividend of 14 Canadian cents per share.
Article content
Couche-Tard, Canada's fourth-largest company, took advantage of a revenue boost from higher gasoline prices last year to reward shareholders with a dividend hike and share buybacks.
Article content
Still, the stock price has lagged as the company struggled to meet analyst estimates, reporting that fuel volumes declined and wages and electrical bills increased. The company recorded revenue of US$5 billion, but net earnings dropped to US$737.4 million in the quarter ending Jan. 29, 2023, compared with US$746.4 million in the same period a year earlier.
"As our markets across the globe, especially those in Europe, continue to face persistently high inflationary conditions, we have remained focused and committed to delivering a strong and consistent value to our customers and maintaining cost discipline in our operations," chief executive Brian Hannasch said in a press release issued after markets closed on March 14.
Article content
"While our mobility results are still impacted by stay-at-home work patterns and higher prices, we continued to generate healthy fuel margins offsetting the decline in volumes."
The latest results come when Couche-Tard is at a crossroads.
Experts such as Amr Addas, strategic adviser for sustainability at Concordia University's John Molson School of Business, believe that demand for electric car charging stations will outpace demand for gasoline in coming years. As a result, fuel retailers such as Couche-Tard could face an existential crisis.
Indeed, Hannasch has said in the past that he wants the company to be less reliant on fuel sales.
In February, Couche-Tard was named one of the best-performing businesses in terms of environmental initiatives by Sustainalytics, an Amsterdam-based firm that rates companies based on their environmental, social and governance performance. However, closer investigation revealed that the company's ESG initiatives might not be as impressive as they first appear.
Article content
The company continues to expand its fuel business. At the beginning of March, the company purchased the Wilsons Fuel Co. network, which includes 79 convenience stores and gas station sites in Atlantic Canada. In order to complete the transaction, the company had to sell 52 of its own locations in the region, following a review by the Canadian Competition Bureau.
On Feb. 27, the Couche-Tard announced it would acquire 45 Big Red convenience and gas station sites in Arkansas. "As we expand our presence in the area, we look forward to bringing the Circle K experience to new customers and making their lives a little easier every day," said chief operating officer Alex Miller in a release.
Martin Landry, analyst at St. Louis, Missouri-based Stifel Financial Corp., wrote in a note that Couche-Tard's purchase of True Blue Car Wash — 65 car washes in Arizona, Texas, Illinois and Indiana — in December could be an opportunity for the company to "start consolidating the car wash industry," and gave the company a "buy" rating.
Article content
In another note, Landry wrote that mergers and acquisitions opportunities "appear plenty" for Couche-Tard, noting that Iowan convenience store chain Kum & Go was looking to sell its sites. "With a strong balance sheet, we believe Couche-Tard is well positioned to create value through M&A," Landry wrote.
In the last few months, Stifel has consistently given the stock a buy rating.
• Email: mcoulton@postmedia.com | Twitter: marisacoulton
(Except for the headline, this story has not been edited by PostX News and is published from a syndicated feed.)